If the past twelve months have taught us anything it's the importance of being able to adapt and change direction. The spread of the Coronavirus has brought the efficacy of traditional workplaces firmly into question. The revelation that remote working provides a genuinely viable alternative to the daily office commute has been one of the few positives to come out of the pandemic.
The workplace is changing, in other words, and employers need to therefore consider their current workplace set-up now and whether it could be at all improved. The team here at London-based Managed Service Provider Nutbourne, who not only act as an MSP but design and build workspaces as well, wanted to detail what goes into designing and implementing the perfect place of work.
Space Planning & Design
---
Open-Plan
The idea of 'agile' working (also known as 'hybrid' working) is very much prominent within employment circles at the minute. According to a report by Gensler, 67% of employees stating they'd prefer a hybrid work model moving forward – one in which an employee's time is portioned out between both working from home and working from the office – employers need to assess whether they're current office space can adequately accommodate this shift.
Increasingly, employers are shifting towards more spacious, open-plan work spaces. Hot-desking was becoming all the rage even before the pandemic took root, and this trend towards delineated workspaces is only going to continue in the future. With the main purpose of the office seemingly transitioning from the administrative, data-driven tasks to more collaborative and creative processes, Nutbourne can help review and audit how your office space is currently being utilised and where changes can be made to reflect these rapidly shifting criteria.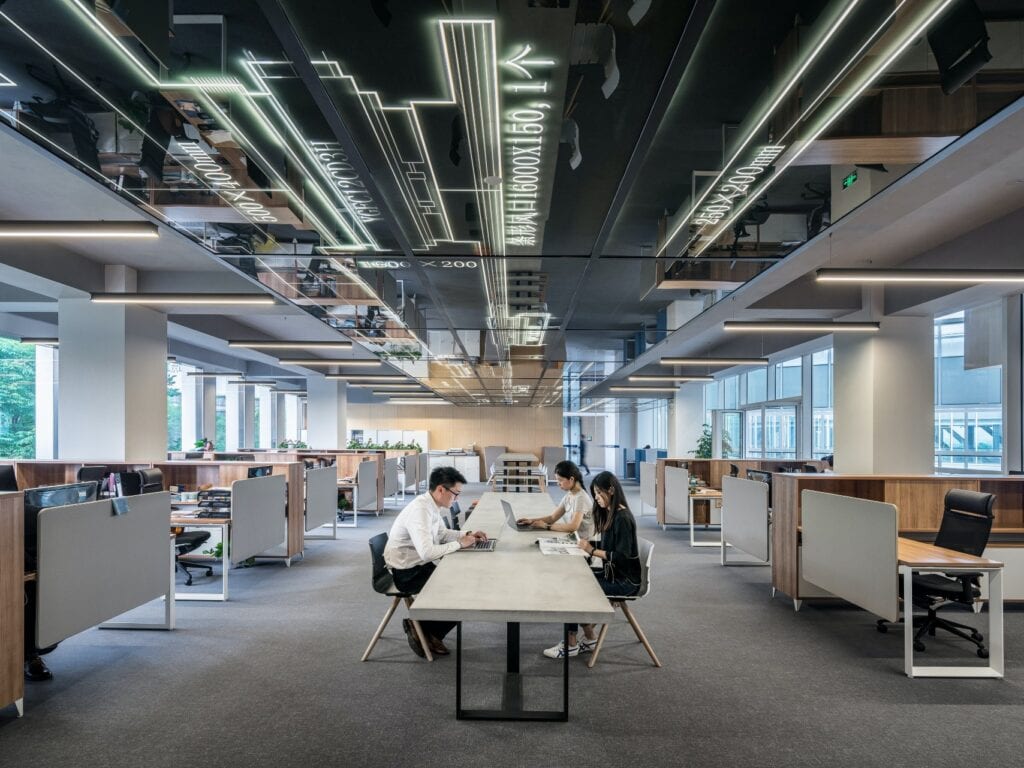 Privacy Is Still Incredibly Important
The perfect workspace incorporates everyone's interests and needs rather than simply pandering to the prevailing trends at the time. Whilst that Gensler study showed more people wanting to work remotely in the future at least some of the time, it also indicated that 21% wished to continue working full-time from the office. As a managed services provider, we make sure to incorporate this 'equity of needs' into all of our design proposals and plans.
If you do have your office redesigned or relocated this tranche of employees can't be forgotten about. The 'busy', always switched-on nature of more open workspaces isn't for everybody. From the installation of private air-conditioned pods to the implementation of acoustic dampening, your office needs to strike a balance between privacy and productivity regardless of how many employees use it full-time. It's crucial that employers don't end up treating more 'skeleton' permanent office staffing as a free-pass to completely do away with private work stations.
Office Infrastructure & Fit-Out
---
Of course, no matter how streamlined you'd like your office to become in the future, the chances are you'll still need a fair amount of technical infrastructure implemented. From structured cabling through to network and server installation, Nutbourne can oversee any M & E (mechanical and electrical systems) alterations or additions that are required.
Behind every slick and shiny office are the more mundane (though no less important) components; the ceiling tiles, the flooring and the lighting. Need old furniture removed? We'll take care of that too! In fact, the following is a list of everything that we're able to cover when we take on a design and build project:
Design (conceptualisation, planning and procurement)
Project management (finances, legalities and deadline specifications)
Removals and relocation
Installation!
The Importance Of Flexibility
---
Your office design shouldn't ever be something upon which you have to compromise as an employer. Traditionally, employers have settled on hiring conventional workplace contractors to re-fit their offices for them. The kind of contractors who bank on the fact that most employers aren't aware there's a better option out there.
These conventional 'paint-by-numbers' offices might do the job in as far as being functional spaces, but they by no means help you do the best job – something which every office space should aspire to do through its design. Whenever we take on a design and build job, our remit as a managed service provider is to truly work around you and your needs as a business.
Contact Nutbourne
---
Being a good managed service provider is about exactly that, it's about managing your services and that includes the optimising of your office! From start to finish we'll oversee and manage the transformation of your workspace. So, if you'd like to find out more about our design and build services or about our work as a managed service provider in London, then get in touch! Contact Nutbourne today on +44 (0) 203 137 7273 or fill out our online enquiry form! Alternatively, if you just want to see some examples of our previous fit-outs, then just let us know!