It was once proffered by a wise soul that a paperless office is about as likely as a paperless loo; it turns out whoever said that was right. So does the same apply to virtual offices? Are they just as unlikely as a virtual loo, whatever one of those is? Well, actually, yes. For all the success of remote working and the emergence of tools that facilitate virtual meetings, networking and interviews, the physical space we inhabit for work isnt about change too drastically, says Marcus Evans, Managing Director of Nutbourne, who offer IT solutions in East London. Instead, it will undergo a quiet evolution but remain the company hub.
Working practices are changing and the way offices are set up is changing," says Marcus. For some organisations, that has been accelerated by lockdown. But, funnily enough, COVID has had no effect on this – especially not on the software or the development side. Companies have been putting their servers and their services in the cloud for years. What it has meant, is that remote working is easier and the organisation is a little more flexible. But offices have remained central to the way companies operate and will continue to do so."
So, what will the office of the future look like from an IT perspective? Marcus says that he and his East London IT solutions company expect to see almost every organisation migrate its servers and services to the cloud, freeing up space in offices or meaning that companies downsize. Remote working will be increasingly normal, which means that fewer relics from recent years will be on show.
With your workforce operating flexibly, theres no need for desktop computers. I can see them being completely obsolete in 10 years as companies move exclusively toward laptops and tablets. Equally, the phone system will change and there will be fewer, if any desktop phones. Instead, what well see is a cloud-hosted phone system thats accessed through your laptop. We're already seeing a big increase in the number of cloud VOIP phone systems in East London, in fact.
I envisage a scenario where offices are really streamlined, where you have little more hardware than desks and power ports because everything you need to access can come through your laptop via the internet connection."
Marcus concedes that it creates a slightly dystopian picture of future workplaces, though he adds that is actually quite far from the truth. He says that it wasn't so long ago that fax machines were common, and before them telex machines and reminds us that the phasing out of old technology doesn't mean the phasing out of the office, nor what it stands for.
I'm sure I'm going to be wrong about something here, but the trends we are talking about predate lockdown. The only real uncertainty, though, is if another technology, one which we can't predict, comes in and shake things up. This has been happening for a long time in work and there's no reason it couldn't happen again. Where is the typist pool? The fax? Where are the email servers? All these have been superseded. I'm not sure if anything else is coming, but it will be fascinating to see."
Preparing for the office of the future:
Future office infrastructure will define not only how businesses deliver their service, but how they adapt to changing market forces and to attracting talent. Emerging trends over the last decade have seen organisations operate out of a single central hub with a core team, and then deploy remote teams or individuals regionally, spreading their footprint around the country, and indeed the world.
This opens up the talent pool enormously, which is not often something companies associate with IT," says Marcus. Traditionally employees might look at relocating for a job, and employers would look for talent relatively locally – thats naturally prohibitive. When you open the talent pool up to take in the whole country, the potential for improving skillsets within the business is enormous."
So, how do you plan for this?
Plan for home-working when recruiting
You should interview as normal, looking for qualities like ambition and attitude, as well as suitability for the company culture. In addition, you'll want to sift more rigorously for home working, and working alone," Marcus says.
The ability to work flexibly and autonomously are reasonable considerations now. Equally, you want to make sure that the individual is not only good enough to do the job, but also has the ingenuity to progress themselves to a certain extent. If a reasonable amount of their working life is going to be autonomous you want to safeguard against them treading water – and much of that will be self-governed. If they're ambitious, they'll naturally push themselves to a certain extent."
Consider new geographical regions
The success of home-working means that to an extent, the need to recruit your immediate geographical region is less important. Marcus believes that its now worth widening your geographic reach and looking at talent further afield.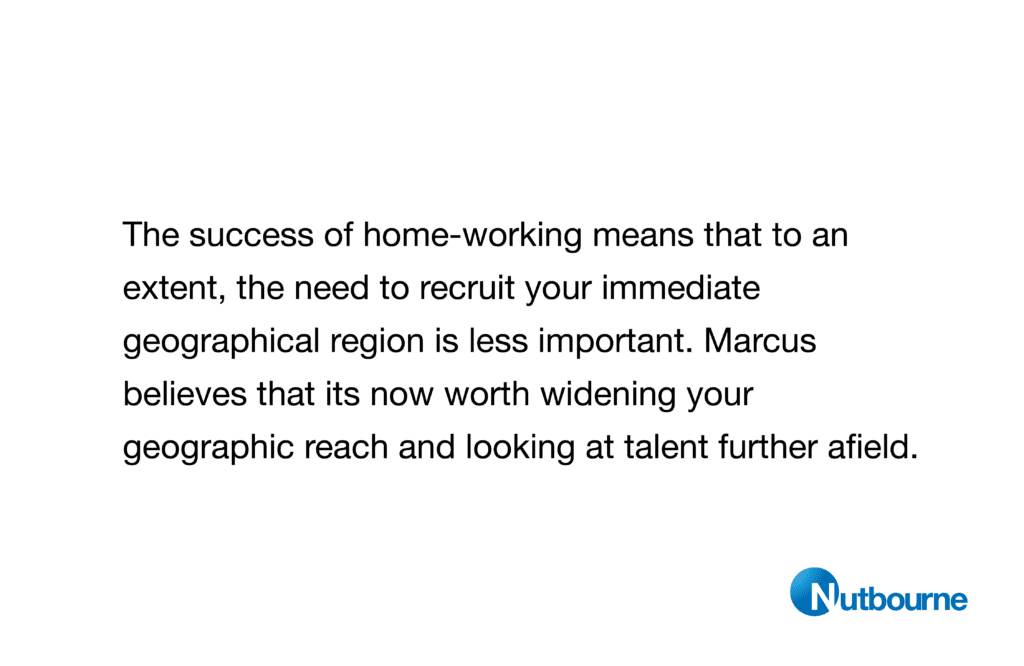 By looking at geographic regions you can recruit from, you widen the talent pool. We offer IT solutions in East London, so would typically look at people that were either an hour or so away, or were willing to move closer.
Now that home-working is becoming ingrained and workable for, theres no reason for us to confine our search. Its conceivable that we could widen our talent pool to take in other cities and regions, and form hubs within them. Its a realistic option for a lot of businesses and allows them to be more ambitious when it comes to recruiting the best people for the job."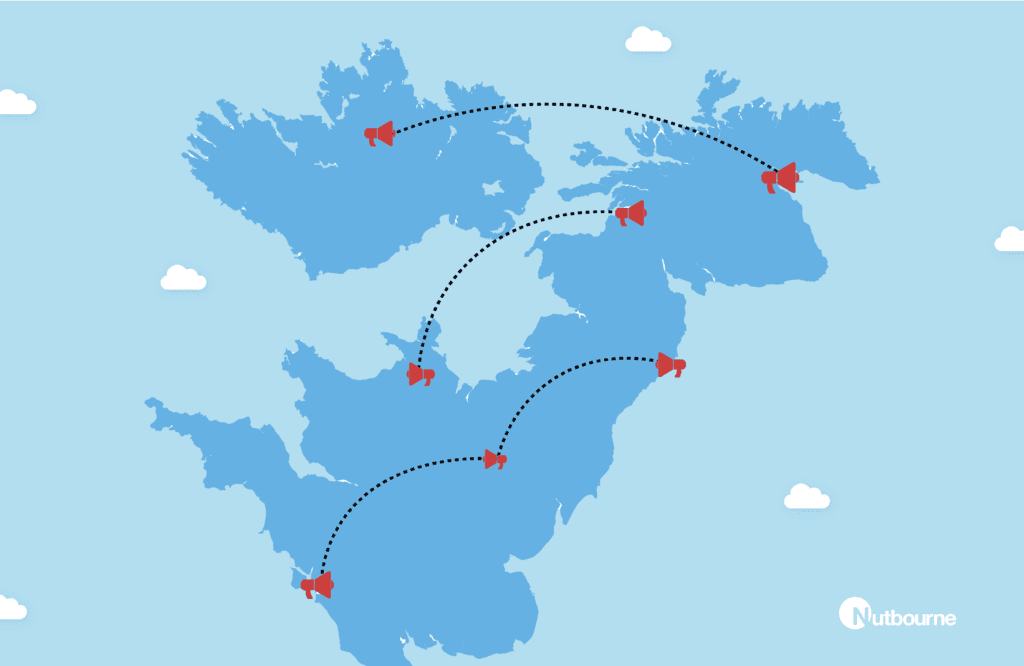 Re-imagine how your office works
How many functions actually need the office in your business?" Marcus asks. If you can name any that dont need it, or that need it rarely, then consider rethinking how often you require them be in the office and how you can mobilise them to be more effective and efficient. That frees space in your office and gives that function the opportunity to work in a way that better suits them – so everybody wins.
The setup of offices is going to change," Marcus concludes. And you will need to adapt. But with careful planning, your office will remain the core hub for a flexible and adaptive working force, and for a business that grow and meet the demands placed on it."
So, if you'd like to find out more about our IT solutions in East London, then get in touch! Contact Nutbourne today on 0203 137 7273.